Buzz, buzz. You have a new message. 'A new announcement was posted by your instructor'. Buzz, buzz you have another message. 'Assignment 1 instructions were added to the course'.
For a student to be up to date on new course material posted online, announcements, course readings, or weekly lectures is important but you also want to enable notification settings to your personal preferences.

New System, New Preferences
The new Quercus system allows you to be in control of the notification settings unlike the old Portal. Students are now getting a say on when, and how they want to receive updates.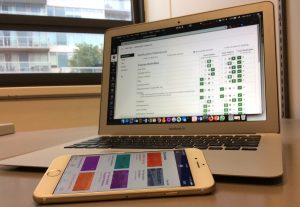 Quercus lets you choose which notifications you want, how often they're sent, and where they're sent. You can choose the frequency of updates and can choose to add a mobile device or alternate email address.
In Quercus, by default some notification settings are enabled so you will be notified through email for things like Announcements or messages from the Inbox/Conversations tool. You have the option to customize these notification settings. Personally, I login to my UToronto email account to read course messages.
Important:  U of T students are expected to monitor and retrieve their mail, including electronic messaging account[s] issued to them by the University, on a frequent and consistent basis. Students have the right to forward their University issued email account to another email service provider address (eg. Gmail, Hotmail, Yahoo, etc.) but remain responsible for ensuring that all University electronic message communication sent to the official University-issued account is received and read.
Getting Started
First, login to Quercus. Look for Account at the top of the global navigation. Click it and select Notifications. You'll be brought into a page to change your notification preferences. Just remember these changes to your notification will be for ALL your courses.
Now, let's review the preference settings.  You are able to choose from four different options:
"Notify me right away" for those students who always want to know what is happening at all times
"Send me a daily summary" so at the end of the day let students know what has changed throughout the courses they are enrolled in
"Send me weekly summary" for those that would prefer being updated at the end of every week
"Do not send me anything" for students that prefer not have their notifications on at all

There are many different categories on the page, you can choose which timing you want for different items. For example, Due Date includes the option to select 'notify me right away'. Announcements includes the option to 'send me a daily summary'. Remember to choose your settings responsibly! See Important note above.
Another notification option that Quercus offers is for you to be notified using the Student Canvas app. I always have my phone on me so being notified through the app is handy, but I do want to make sure that I have read course messages. An effective method to be notified on what is happening in my courses is to login to my U of T email account and read it there.
You will love the idea of being able to customize your notifications to your preferences. Now students, it is time to choose what works best for you. Select your notifications settings!
Additional Resources:
Guide:
-Adriana Capano & Sankhi Liyanage