The first thing you see when you log on to Quercus is the Dashboard that displays your current courses. The great thing I love about Quercus is that the course cards are colourful and customizable. Let's be real, I don't WANT to do work but I have to. If I'm going to do work I want to see what I want to see. I can choose the colours of my courses and I can also give it a "nickname" for my courses. For example, I put my favourite colours on my courses to get me happy and excited to dive into work. I gave my course nicknames that will motivate me to do work or to energize me. Quercus lets you have fun with this! Let your creativity run wild! I personally put song lyrics that hypes me up!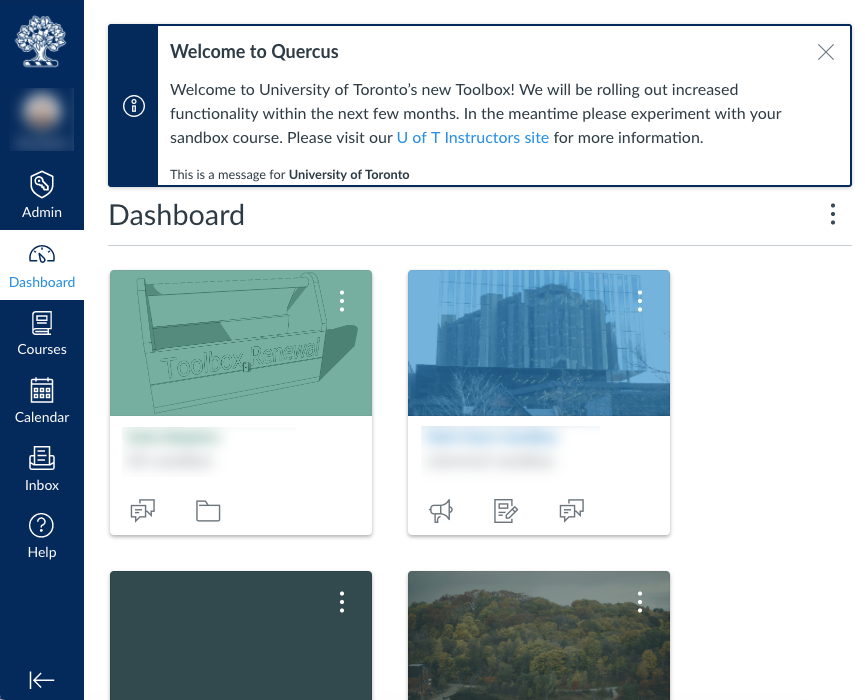 Once you click on a course card, you'll be directed to the home page of the course. Depending on the instructor, it'll be the Module page, or their own personalized home page. Usually, any information you need about the course will be available for you on the home tab which is VERY convenient. The Module tab will be where you find all your course contents. This is your best friend on Quercus. The instructors will post lecture slides, assignments, tests, etc. Pretty much everything you need is right here, in an organized way your instructor feel is best for the course.
The tabs may vary based on the course. You may have a Quiz tab in one course but not in another because that course may not have quizzes. However, Quercus is accessible. The name of the tabs will always be the same for every course. Everything you look for will be under the same tabs through all your courses. So, you don't have to remember where things are. Another great thing about Quercus is that the names are self-explanatory which allows you to navigate through the course seamlessly. Whenever you want to navigate to something look on your left-hand side for the navigation bars and the middle/right side of the screen to access any content!
Honestly, if you spend maybe 2 minutes going through each tab of your courses, you'll be able to find everything! That's how easy it is. So, pull out your stopwatch and comment below how long it took you to learn where everything is in Quercus!
There are other tabs that I have not mentioned in this blog such as assignments, grades, and inbox, but there are other great blogs from other users. I'll link them below!
Additional Resources:
Guides:
-John Cho