If your instructor or TA has said they are using Turnitin for the course, but you have a few questions, such as: What is Turnitin? How to use it on Quercus? and more? Well, you've come to the right place.
What is Turnitin?
Turnitin is a tool that the University of Toronto uses for checking similarities between assignments that you submit and other materials in the Turnitin database or the web. Turnitin is an efficient way to identify common writing issues and deter plagiarism in course assignments.
What is a Similarity Report?
The Similarity Report (formerly known as Originality Report) highlights similarities in your assignment to other sources and provides links to these sources that contain similar text.
Similarity Reports highlight text within your paper that are match other sources, but this is not  necessarily reported as plagiarism. Your instructor is the one that determines your assignment is plagiarized. Turnitin is tool and resource for students to develop their citing skills.
Your Submission
Before you are able to check your Similarity Report, you need to submit your assignment. When submitting your assignment remember to select the checkbox 'I agree to the tool's End-User License Agreement'.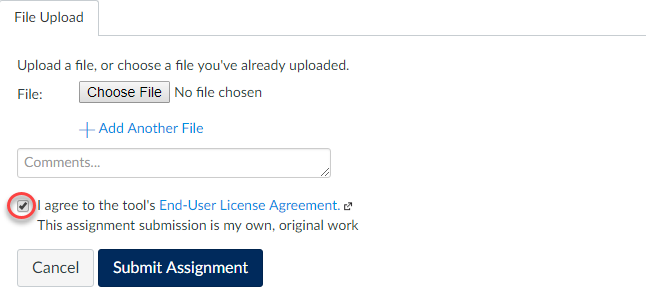 When you submit your assignment, Turnitin generates a Similarity Report. It highlights any passages that match other materials in the Turnitin database or on the web. You can check your status for your assignment by clicking Submission Details. A flag with a number indicates the Similarity Score. Your instructor has to enable the option to allow you to see the report, you can click on the flag and see your assignment with all the areas that have been highlighted (parts that are similar). Determining if plagiarism has occurred requires analysis by the instructor. Turnitin is part of a larger set of tools and resources that assist students with developing their writing and citing skills.
Turnitin is not the evaluator, it is just a tool. (Remember this!)
Understanding the Similarity
This is important to note when using Turnitin, there is no magic number. When I say magic number I mean that the percentage you receive from the Similarity Report isn't a factor to your grades. As I said earlier Turnitin is not the evaluator, it is just a tool.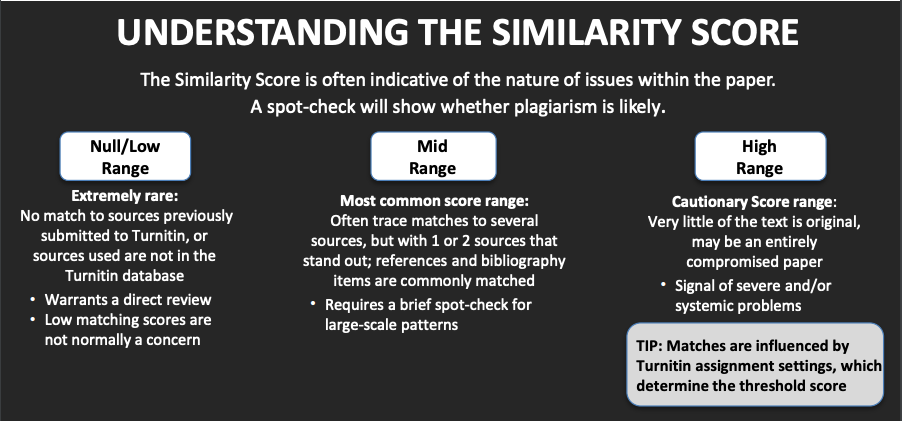 For full chart:
https://teaching.utoronto.ca/wp-content/uploads/2018/09/CTSI_Understanding_Turnitin_Similarity_Report_Sep2018.pdf
If you are looking for your similarity report, but you can't find it? Contact your instructor to make sure they have turned on the choice of letting students see the similarity report.
Important:
Turnitin will not generate a report if your document doesn't meet the file type and size specifications. Make sure your file doesn't exceed 40mb. This can happen with adding large image. You can find more information on File type and size.
Additional Resources:
Guides:
-Sankhi Liyanage